300 is… well, let's just say the images of the movie itself could probably sell you on seeing it more than my non-bitter diatribe could, so I'll mainly just show you a bunch of pictures with my thoughts sprinkled in between.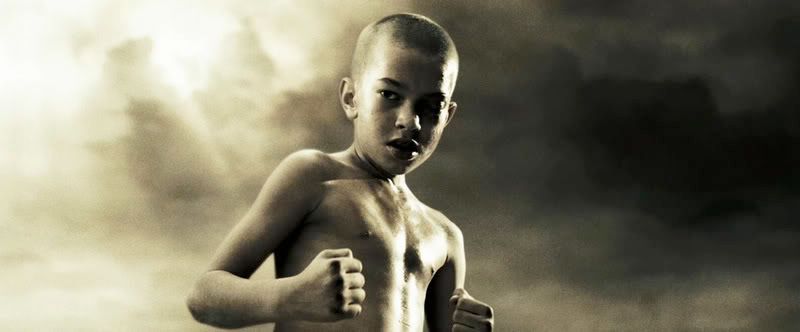 This young Spartan is credited in the movie with the last name of Snyder and that makes me think that director Zack Snyder has a bad ass kid. 300 is so good that the exposition is never boring and always gorgeous to look at. It feels more connected and real than any of the Star Wars prequels and it was done on far less of a budget but with a lot more love. *hugs* Well, at least that's what I think.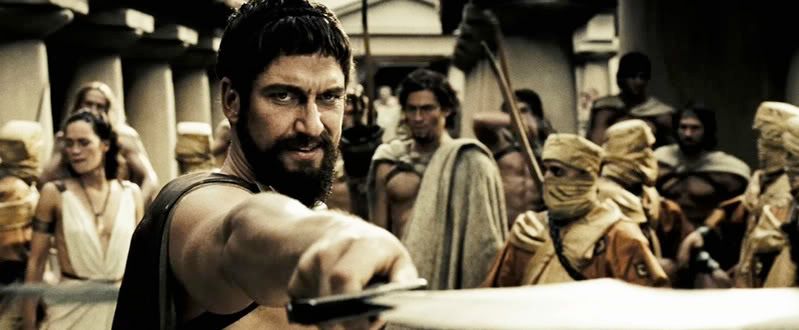 Gerard Butler is more perfect as King Leonidas than I even imagined the character being while reading 300. This is a star making role for him. Plus his muscles and beard are freakin amazing as well as his voice. Perfectly cast as is the rest of the movie.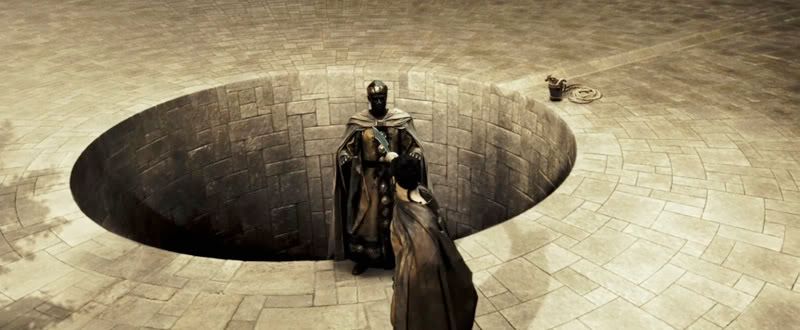 Zack Snyder used Frank Miller's graphic novel for literal translation from book to film. The result is as follows – awesome. Robert Rodriguez did it first with Sin City and now Snyder gives the source material the same respect it deserves and in this case it actually makes the movie better than the book.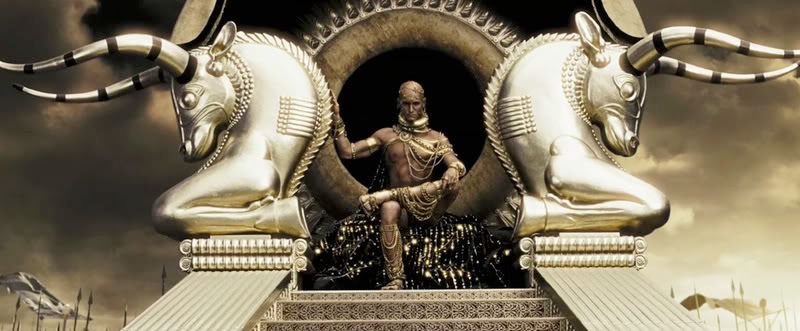 Xerxes is played by the guy who annoys me in LOST (Wed. 10 PM Eastern, ABC) and in 300 he's supposed to get under your skin, but in a way that's necessary for the film. He nails his performance as a man who believes himself a God. So, I'll try not hate Rodrigo Santoro on LOST as much as I have before. NOTE: People wore eye liner and flagrant outfits and jewelry back then. Quit snickering! Hell, if I was a God I'd be a little fruity. What the hell would YOU do about it? Exactly.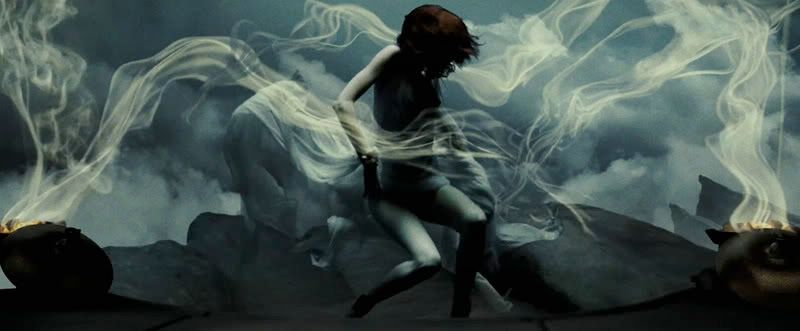 Yes, there is nudity and yes, I enjoyed it. The oracle here is amazingly gorgeous (not everyone should have double D's and tan skin) and her nipples reminded me of the side of ginger you get when ordering sushi from a fine Japanese steak house. Umm… there is also male nudity for the ladies, or as Neill Cumpston refers to it – dude-ity. There is also a love scene between the Queen Gorgo and King Leonidas that is handled much like the battles in the movie; it's in slow motion, it's passionate, it's moving. Probably one of the better love scenes I've seen in a long time.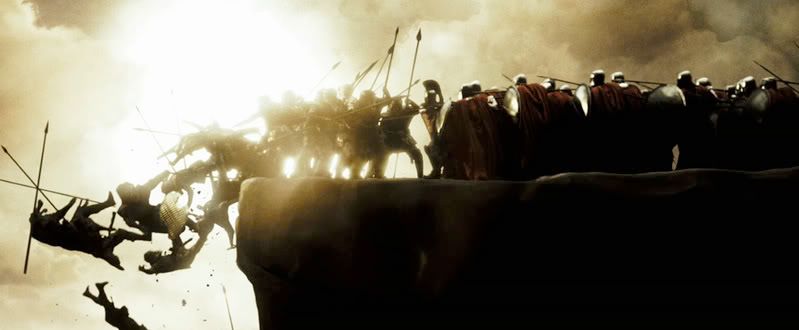 How f'n amazing is that? If you didn't like this movie I hate you.
300 actually happened. It was the the Battle of Thermopylae in 480 B.C., that pitted 300 Spartan warriors against the endless army of Persian forces that were conquering most of the world, from one blood-spattered forced-into-slavery territory after another. Of course you can bet it didn't look this great, nor was their giant troll-like men or yaks playing flutes, but if you're honestly focusing on the details of this movies historical accuracy then you sir, are a bore to be around and probably hate life. Shame on you.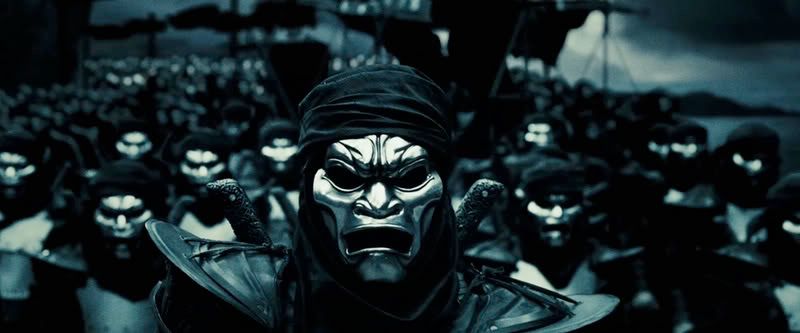 "The Immortals. Let's put their name to the test."
Hell yeah. The look Leonidas has when he knows these are, in fact, beings that bleed like any other happens quick, but is well worth it and grin-inducing.
The battles themselves are unlike anything you've ever scene. Zack Snyder used multiple techniques while filming, one was to line up three cameras beside each other and film at different depths, etc. This is how he got the effect of zooming between action that looks so unique. There's so much to look at you're thankful that a lot of it is slowed down for you. You have action in front, in back, on the sides and you're able to see all of it. NOTE: It also helps if you're fortunate enough to see it in an IMAX theater. I did. Hate me now.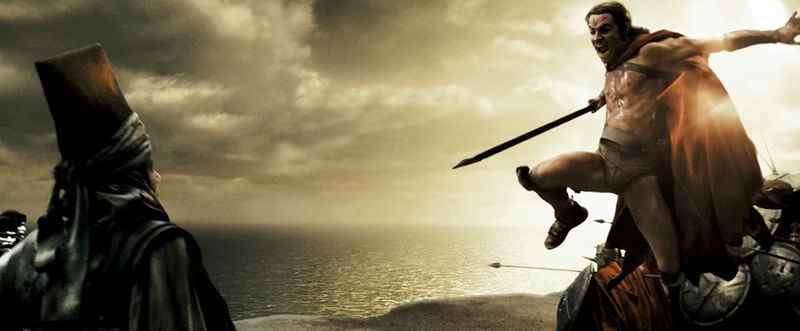 Another scene that translated perfect from Miller's graphic novel. In the book, Stelios stumbles and falls over while the Spartans are marching. He receives punishment for this by being kicked by his Captain and when the Captain does not listen, King Leonidas puts him in his place and makes Stelios carry his commanding officer on his back. Stelios' fellow Spartans called him 'Stumblios' after that. This, of course was left out of the movie and I'm kind of glad it was. The additions and slight tweaking of the way the film is layed out only makes it better. The sub plot with the Queen was also not in the book, but it serves its purpose here to give the audience the moment in the movie where they all cheer. Although typical, it works.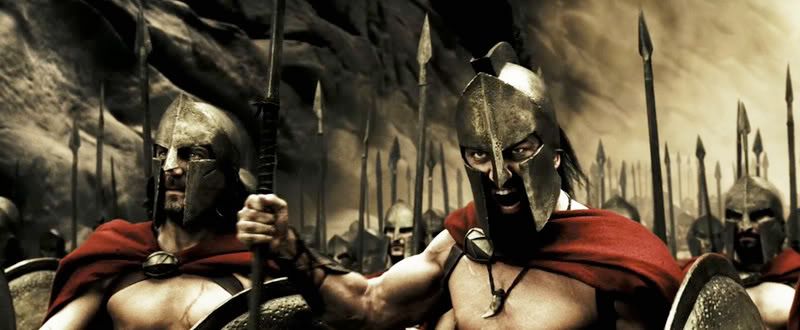 300 does not disappoint. You have never seen anything like it and when you do it is refreshingly awesome and beautiful and mesmerizing. Gerard Butler plays King Leonidas so well that you would really follow him to certain death because he's such a good man. The music in the movie is also amazing. The exposition moves just as swift as the battles and these day's that is so very hard to do. Zack Snyder is filming Watchmen next. If you don't know what that is, it's basically the Holy Grail of comic books. Many believe it impossible to translate to the screen. I don't know what the outcome of that movie will be, but damn it if Snyder hasn't given me hope that we could get something amazing out of it. The message of 300 is a simple and powerful one. It's about people fighting for their freedom even if it means dying for it. It's about doing whats right without bowing down to a higher power. It's also about kicking ass and taking names. Outnumbered 3-1? Sounds like good odds for a Spartan.
SCORE: 9 out of 10
His love of most things in entertainment can be summed up by having an English Bulldog named Spielberg and consistently asking if it's Halloween yet.